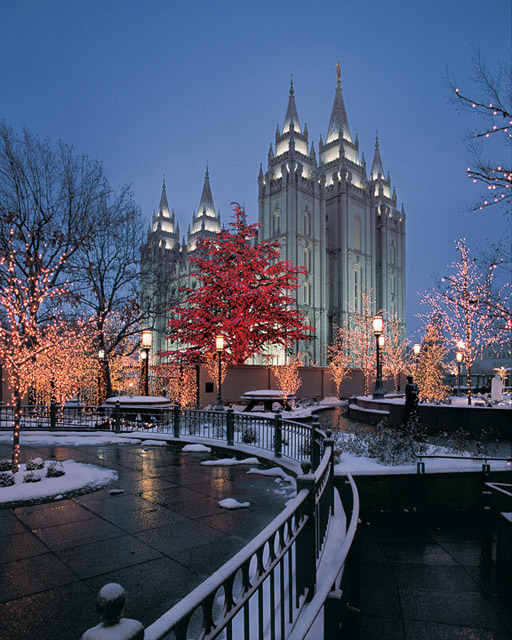 Ever wondered what it would be like to go to Disneyland with the Prophet? Can you picture Elder Scott on Splash Mountain? Or Elder Packer on the Teacups? Or Elder Hales with Mickey Ears that have "Bobby" embroidered on the back? Just imagine the possibilities of combining the two best things on the earth: the Church and Disney. EPIC, right? Hopefully no one is unconscious on the floor right now due to a fit of cataplexy, but I had to risk it. While plans for the Disneyland, California Temple seem like a dream too wonderful to be reached, there is hope.

Let me explain.

My wonderful district leader, Elder Gardener, let me borrow a cd this week that is so amazing that I've listened to it an average of 4 times a day since I've had it. It's the Disney Orchestra playing LDS Hymns. Repeat: the Disney Orchestra playing LDS Hymns! I hope I don't need to explain how excited you should be at reading this. Whatever chills you're having right now, double them. Everyone has to get a copy of the cd. I don't know what the cd is called, I don't know where to get it, but I do know that this cd will change your life. If you are a Pinegar and you are reading this, you'll also want to buy a box of tissues when you get the cd because tears WILL flow. Listening to "The Spirit of God" is like being at a baptism and on the Dumbo ride at the same time. It's the BEST CD EVER. Be cautious of who you listen to the cd with, especially the first time, because you WILL have an enormous grin on your face through the whole thing and you won't be able to stop it. Also, if there is any friend of mine who is reading this letter who already knew about this cd, we are no longer on speaking terms. You are not a true friend. True friends don't keep happiness like this a secret.

**Note from Mom: I looked up the cd and it is called "The Power and the Glory" and has been ordered and paid for as of today. Ironically - there is an endorsement from one of Brooke's Pinegar cousins, Ed Pinegar, AND was recorded by Epic Recordings! And she had no idea. Why am I not surprised?"

Our week here in Salem has been better than last week. We got transfer calls on Saturday and Sister Ford and I are staying here which I'm glad about. The work here hasn't really picked up at all, but I can see gears starting to turn, so I think we're headed in the right direction. I'm finally starting to feel better, which is perfect timing because Sister Ford Sister Ralphed this morning. Now I can be the conscious one while she bundles up under blankets.

The Corbin Ward did a temple trip this week and I can't wait to hear how things went. As far as I know, Bishop wanted Otis, Logan, Reed, Sherry, Judy and Willard to go. I don't think that Mary would be up to it physically. I hope they all went. I know Otis was planning on it. I think the reason Heavenly Father had me transferred by the time they all went is because I would have exploded at all the BYH-ness that must have ensued in the Baptismal Font.

President Woodbury had the whole mission fast this last Wednesday for miracles and for the hearts of the people here to be softened. Fasting brings miracles. Here's Salem's: Do you remember Laura? Way back on December 26th we met her and talked to her about her friend that died. She's been friends with a member family for years now and has never wanted to talk to the missionaries. That night she changed her mind and said she wanted us to come to her house. Remember her? For the last month we've tried to see her and she's either had to cancel or forgotten or had an emergency or something. It had been weeks since we'd heard from her and we'd left a couple messages so we didn't want to bug her anymore. All we could do was pray that she'd call us. On Wednesday morning Brother Winslow called us and cancelled because he had a doctor's appointment. It's the worst to have a cancellation in the morning because tracting in the morning is almost pointless. We were trying to decide what we'd do instead of seeing him when the phone rang. It was Laura! She asked if we could come over in a half hour. Thankfully our schedule had JUST cleared up. So, we went over and had a wonderful lesson on the Plan of Salvation. She said that everything made sense and that it made her feel like God loved us more than just Heaven and Hell and if you don't get baptized you go to Hell even if you're a baby. We talked a lot about the Catholic church and her likes and dislikes regarding it. She said she really wants us to come back for dinner sometime and teach her husband, Dan, about it. She LOVED the Elvis in my visuals (thanks, Lars). You can never go wrong with Elvis. Dan and Laura are collectors. Their daughter, Sasha, is, too. Their whole house piled and lined and stuffed with collections. They love the Munsters and Kiss and Marilyn Monroe and Jesus and Fish. You could just sit in one of their rooms and be entertained for hours, looking at things. I love Laura so much! She's such a tenderhearted lady, but also has personality. There's going to be some issues with authority and the Word of Wisdom (her daughter made her a hookah for Christmas) but I feel the Spirit so strongly with her. I love thinking about her before this life. She knew the plan and agreed to it. Now it's a matter of helping her remember it. Thank you so much for your prayers regarding her. Please continue to pray for her and for her family. She said she'd call us which is something missionaries try to avoid because then you never know when you'll see them again, but I know that prayer worked last time and it will continue to work with her.

Speaking of prayer, my view of prayer is evolving right now. I haven't been getting as much out of my prayers as I think we all can and I've been wondering why. Then I got to thinking about how my relationships form with people. It isn't a bunch of onesidedness. Even if the one side is patient and humble and trying to be faithful. How can you know the other person if you're never quiet? So, I've been working on listening more. But I still wasn't liking the format because I'd list all my stuff and then wait. That's still pretty one sided. Shouldn't a conversation be: I talk. Then He talks. Then I talk some more. Then He talks some more. It's not me dumping all of my issues and questions on my pillow and then kneeling there until He sorts them out for me. I don't know. I'm not really good at this new approach yet and I'm not even sure that's how it works or has to work, I'm just throwing it out there. I just want to know God the way He knows me. And the way I've been going about it till now doesn't quite cut it for me. Any suggestions? I think the answer has to do with having a prayer always in your heart. We should lean on the Atonement throughout the whole day. We should lean on the fact that there is Someone who understands us perfectly and knows what it's like to be faced with a question or a problem or an emotion. I know I'm rambling again and I know this makes even less sense than usual. Sorry.

Extra Blessings: Willard, Paige, Otis, Malachi
Quote of the Week: "The cross dresser? His mom died last winter. He got a whole new wardrobe."

Life isn't perfect, but it's awesome. Go buy that Hymnsney cd!

The Church is TRUE! Share it!

Love Yuns,

Sis Nelson